Royal Dead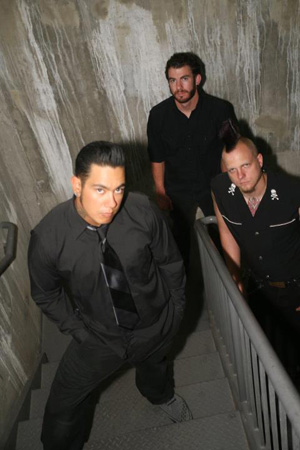 Dynamic and brash, Royal Dead continue to wreak havoc in the psychobilly scene. The band's much-anticipated EP, Go Bat Go, drops March 24th. Nine new head-shaking songs feature fast guitar, stand up bass and aggressive drums. Royal Dead will also premiere their first music video this month for the song Death Cycle.
Royal Dead formed in early 2004 in Denver, Colorado and saw a few lineup changes over the years leading to their current incarnation with Eddie Suicide (vocals & guitar), T.J. Miller (bass amp; backup vocals) and Eric Wood (drums). Their first full length album "Enough Noise To Wake The Dead" was released in December of 2007. The band toured regionally through 2008 and nationally in 2009, earning them recognition and support all over the country. They have been working hard, writing and recording new songs and can't wait to get back on the road in between recording sessions for the upcoming Queen Anne's Revenge album.
Bringing their energy to the fans, Royal Dead have shared the stage with the likes of The Meteors, The Nekromantix, The Chop Tops, The Koffin Kats, Zombie Ghost Train, The Henchmen, The Mansfields, The Quakes, Ghost Blood, Three Bad Jacks, 18 Wheeler, The Peacocks, Buckwild, Hoss, Get Three Coffins Ready, Seraphim Shock, Calabrese, Brutally Frank, Sasquatch, the Sick-A-Billys, The Legendary Shack Shakers, The Limit Club, The F-Holes, Pickled Punks and many more.