Royal Dead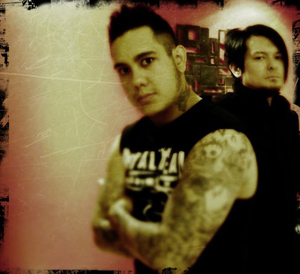 Doom Generation is a new dark and heavy electronic project brought to you by Eddie Suicide and D' MacKinnon.
Having long been influenced by industrial music and its sub-genres, Eddie and D' formed Doom Generation in 2010 as a way a musical outlet for songs that would not fit the mold of their other bands. Their songs range from heavy hitting club tracks to glitchy Autechre meets Atari Teenage Riot compositions. They approach writing as a collaborative effort where both members come up with the concepts for the lyrics or song structure and then iteratively refine the concept until it reaches its final shape. D' composes the music while Eddie writes and performs the lyrics but each song is a joint effort. Separately they have performed hundreds of shows and look to bring this experience to make their shows an engaging and memorable experience. Doom Generation's official musical debut was on Side-Line Magazine's Face the Beat Volume 1.
Doom Generation are currently recording their debut album which they intend to release in late 2011 under the Kheperi Global Media record label.